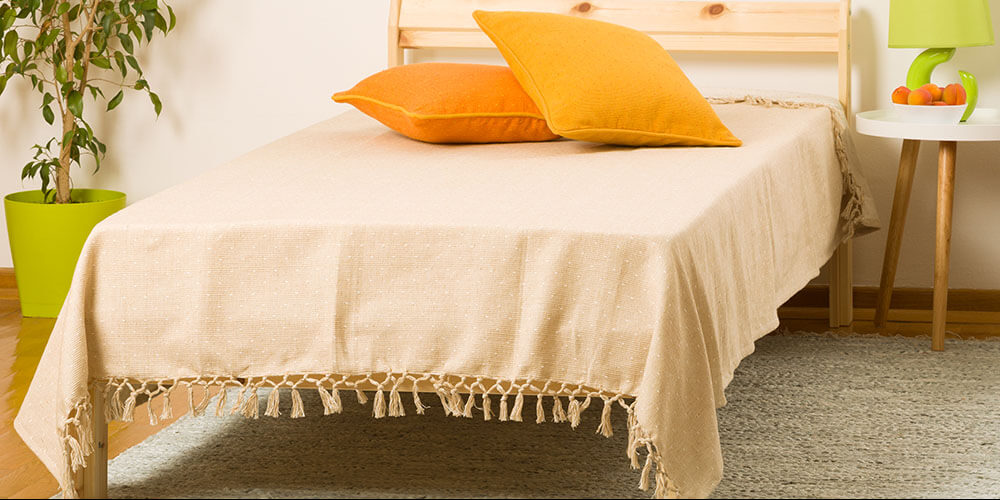 Oaza mira i spokoja – Vaša spavaća soba! Mesto gde ste zaštićeni, gde se osećate najprijatnije i gde odmor dobija svoj smisao. Upravo zato Vam dajemo nekoliko kvalitetnih saveta za uređenje spavaće sobe.
Prostirke za krevet
Pravo osveženje za vašu spavaću sobu postići ćete kvalitetnom prostirkom za krevet. Postavite je na ivicu kreveta i učinićete da Vaša spavaća soba izgleda kao hotelska soba. Bilo da birate veće ili manje dimenzije prostirke za krevet, dobićete pun efekat udobnosti i lepote Vaše prostorije.
Osim toga, prostirku možete koristiti i tako što ćete prostirku postaviti preko celog kreveta. Time ćete zaštititi posteljinu od habanja i prašine koja je deo svakodnevnice. Sama spavaća soba delovaće lepše, čistije i uređenije nabavkom samo jednog ovakvog detalja.
Kombinovanje boja
Odabir boja za vašu spavaću sobu pre svega zavisi od vašeg karaktera. Ukoliko ste osoba od akcije, svetle boje su za vas. Žuta, crvena i narandžasta su stimulišuće i odgovaraju osobama kojima je potrebna pomoć da se razbude, kao i ranoraniocima.
S druge strane, hedonisti, ljudi sa mirnijim karakterom, kao i oni koji ne moraju ustajati rano, preferiraju mirnije boje kao što su zelena i plava. Pružajući osećaj spokoja i sigurnosti, pomažu vam da lakše i dublje utonete u san.

Izbegavajte tamne boje. Bez obzira da li ste osoba od akcije ili odmora, tamnim bojama nije mesto u vašoj spavaćoj sobi. One imaju jak negativan uticaj na vaše raspoloženje, a vremenom i na percepciju sveta oko vas. U početku ćete se lako moći odupreti tom uticaju, ali vremenom sasvim sigurno ćete svet oko sebe posmatrati kroz tamnu prizmu, a to nikako ne želimo.
Odabir zavesa i draperija
Prilikom uređivanja spavaće sobe, posebnu pažnju obratite na zavese jer one prostoriji daju stil, otmenost i prefinjenost. Po pravilu, zavese u spavaćoj sobi trebaju biti svetle, kako bi sobi pružile dovoljno osvetljenja i učinile je vizuelno većom.
Ipak, sa zavesom treba uskladiti i draperije tamnijih boja kako biste sebi omogućili prijatan i kvalitetan san. Izbor draperija je veoma važan za celokupni utisak sobe. Osim što joj daje dozu otmenosti, postavljanjem draperija možete kontrolisati koliko sunčeve svetlosti u datom momentu želite da pustite u prostoriju.
Obratite pažnju na pod
Parketu je potreban tepih ili prostirka koja će učiniti izgled poda efektnijim. U poslednjih nekoliko godina je moderno skloniti tepih i pohvaliti se svojim lakiranim parketom. Svakako, parket jeste lakši za održavanje od tepiha. Međutim, spavaća soba bez tapiha ili prostirke se čini hladnom. Stoga predlažemo da na svoj lakirani parket ili laminat ipak vratite tepih ili prostirku. Ona ne mora pokrivati prostoriju "od ivice do ivice". Naprotiv, to može biti i manja prostirka koji će stajati nasred sobe ili pored kreveta, kako kod hladnih jutara ne biste hodali po hladnom parketu.
Organizujte prostor
Stanite na vrata svoje spavaće sobe i dobro pogledajte. Da li je onakva kakva bi trebala da bude? Može li raspored u njoj biti efikasniji? Nemojte je prihvatiti "onakvom kakva jeste", već učinite da vaš prostor bude optimalan za ono čemu je namenjen. Izbacite ono što vam nije potrebno, promenite raspored nameštaja, učinite sve da bude onakva o kakvoj ste sanjali. Uz malo volje i truda videćete da je moguće.
Isto važi i za vaš orman ili plakar. Bez obzira koliko je organizovan ili ne, uvek se može efikasnije iskoristiti. Ukoliko vam fali prostora, namestite zakačke na vratima plakara.